What is MeWe App and How To Use It?
WeMe is an ad-free, no spyware, and secure next-gen social networking site, which is free to use in both online and android & iOS mobile apps in 19 languages. This application was founded by Mark Weinstein and owned by Sgrouples. MeWe's officially launched in May 2012 and it was honored as the 2016 Start-Up of the Year Finalist for "Innovative World Technology." The site's interface has been very similar to Facebook, although MeWe is an "anti-Facebook" platform because it assures users' data privacy (#not4sale).
As of Jan 2021, the MeWe network gained 16 million users and it had around 1 million active groups, 60,000+ of which were "public" which means open to all users. Business Insider has reported that some of the most popular groups on MeWe focus on "extreme views, like anti-vaccine rhetoric, white supremacy, and conspiracy theories" and that in 2020 the platform was used to organize anti-lockdown protests. MeWe also gained more popularity in Hong Kong in November 2020 because of users migrating from Facebook due to concerns with possible pro-China censorship and moderation.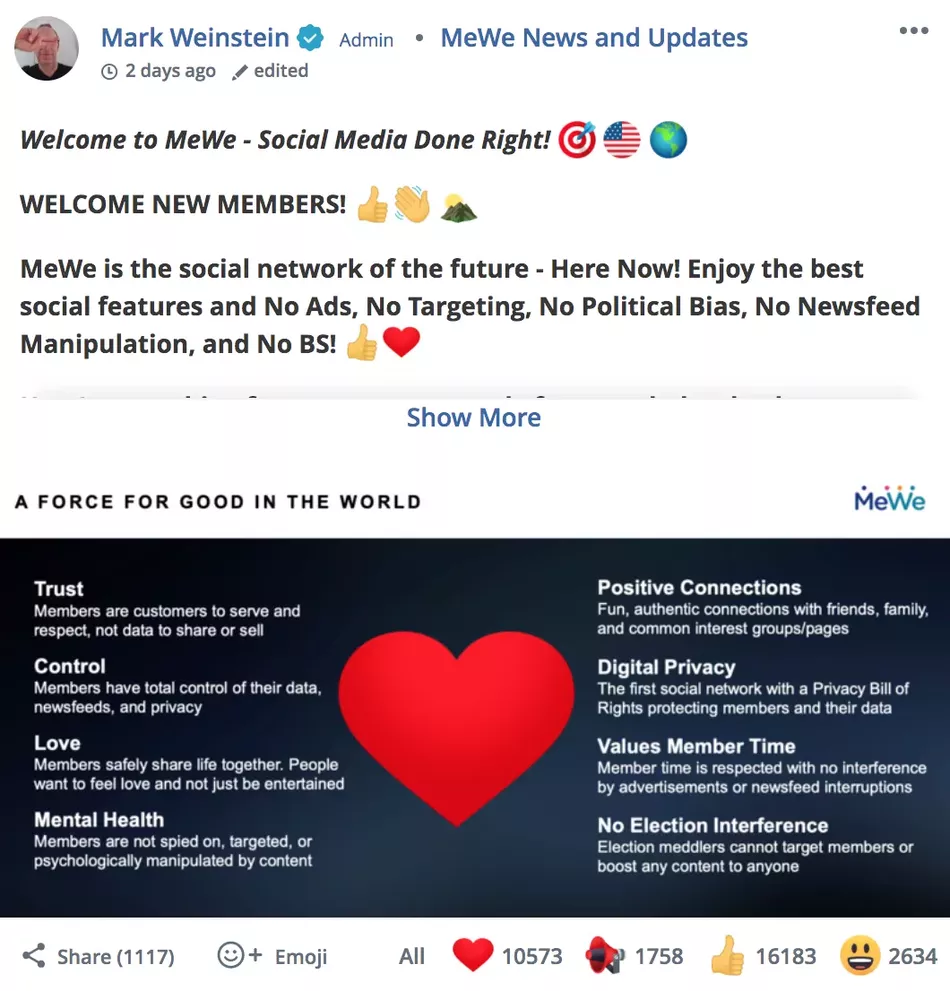 MeWe App Features and How it Works
It has all features common to most used social media platforms in this world, such as users can post images, text, and videos on their timelines. MeWe account users can also add stories, create pages, and groups, join their favorite groups, events, and chat or voice or video call with their friends on this network. It has many advanced features such as cloud (8GB storage), voice integration, dual camera videos, journals, Enhanced permission control, and much more.
Does MeWe App Cost Money?
Yes, MeWe costs money for some of its premium features. For that, it charges $1.99 for Voice and video calling for a month, and this is the same for MeWe pages and journals. Users can also upgrade their cloud storage to 50GB for $4 a month and buy custom emojis and sticker packs for $1 each. For those of you that want all of these features as a package, MeWe's premium tier packs the best choice for $4.99 a month. MeWe Pro also offers secret groups, chats, and Slack-like features for businesses, to connect with employees, communicate and collaborate online.
Also, Read – Snapchat Emojis Meaning
MeWe is a social media platform used by many top personalities, influencers, and news channels. MeWe app set up a Donald Trump account themselves and posted their tweets to increase its hype and some of the unverified MeWe accounts like this for the New York Times, the NFL, Fox News, HuffPost, and even the Onion. When it comes to the MeWe real users account, it is a lot like Parler App, but it is quite different such as no free speech. And also many thought MeWe is a dating app, but it is not.
How To Sign Up for a MeWe Account?
For Android,
Download and Install the MeWe app on your mobile.
Tap the Sign Up button.
Enter your first name and last name.
Click next, and enter your new password.
Click next and tick the checkbox to accept you're 16+ and the app's terms of service and privacy policy.
Now enter your email address and verify.
That's all your MeWe profile has been created.
Follow the same steps and create a MeWe account on your Apple iPhone mobile too.
Sign Up MeWe account on windows PC
Go to www.mewe.com
Enter your personal information such as name, email, or phone number, and create a password.
Click the 'Get Started – Free Forever' button to sign up.
Now you will receive a verification code via mobile number or email based on your preference.
Once verified, your MeWe profile has been created.
Now you can log in to your MeWe account and use it. Same as a Facebook profile, you can fill in your details about you, profile photo, city, work details, school and college info, interest, and much more.
How To Reset MeWe Profile Password?
If you forgot your MeWe account password, you can easily reset it via your phone number or email address. To recover the MeWe password,
Select Member Login on the home page
Select Forgot Password?
Enter your email address or phone number to reset your password.
Also, Read – Reset WeChat Account Password
How To Delete a MeWe App Account?
You can easily download all of your MeWe content and delete your MeWe account at any time. To deactivate the MeWe profile – first, you need to delete any groups you own or change the admin ownership to another user. If you are no longer an owner of any groups, you can quickly close your MeWe account with the following steps:
Open Your MeWe profile
Click on My Account in the top right area of your screen.
Scroll down to Delete My Account at the bottom left area of the window prompt.
No, Wait! signup and enjoy this No ads, no targeting, NO BS next-gen social network on your mobile.
Related Articles
How To Sign Up and Use The Poparazzi App?