What is The Triller App?
Triller is a free short-form video platform, available for Android and iOS. As with its competitors, users create video clips and share them; clips are automatically made public; you can make videos private if you prefer. Triller is a short-form video content creation app like TikTok with some major differences available for both ios and android. This music video app allows creators to choose a song snippet and record a video to it. The limit of video length can be up to 60-second and 16-seconds is the default.
This app was launched in 2015 by co-founders David Leiberman and Sammy Rubin. Triller is owned by Proxima Media, Sony Music Entertainment, Warner Music Group, and Universal Music Group with other investors like Snoop Dog, Kendrick Lamar, Lil Wayne, and The Weeknd.
Anyone can watch Triller videos without an account, the same as on TikTok. But you need to sign up to create videos, follow, like, and comment on their videos. You can also share videos you like to other social networks or via link, text, or email.
Also, Read – Who Made TikTok and Everything You Need to Know
Key Difference Between Triller and TikTok
Triller uses an AI-based video editing tool that automatically adds effects like filters, fast or slow motion, overlays, and basic text to videos. Triller videos (1920×1080px) are more polished than TikTok's videos. Another notable difference between Triller and TikTok is the friendly usage of music tracks. Triller users can listen to full tracks on the app whereas TikTok, only 15 seconds of a track will be included. TikTok users can use only the sounds that are inside the app whereas Triller users can add music from the app or their own Apple Music or Spotify libraries.
TikTok uses AI-based algorithms to show users content based on the content they engage with and watch consistently but in Triller, it promotes newer or more popular videos on its feed, no matter what video you've liked or viewed on the platform in the past. This means that Triller's Discover page is included with many promoted campaigns, top videos, leaderboards, and videos by genre. In TikTok, it shows top videos and trending hashtags based on users' watch history.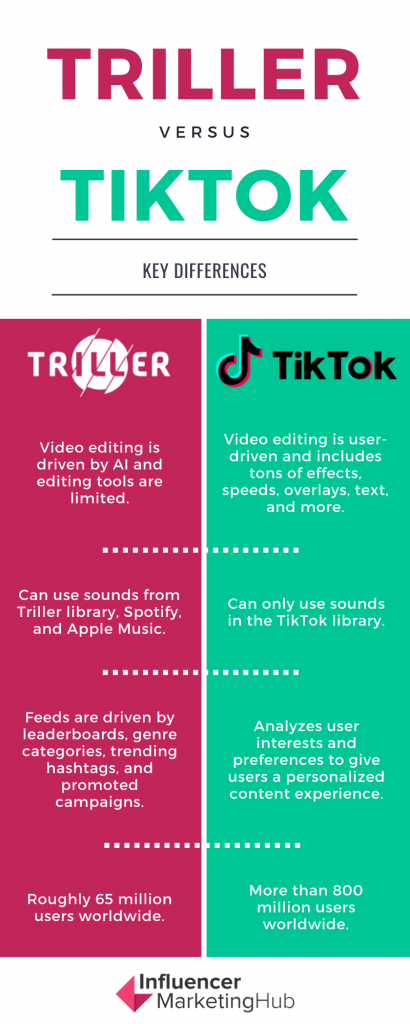 Photo Credits – Influencer Marketing Hub
How to Join Triller App
Creating an account in the Triller app is very easy. You can sign up for a Triller social media app by using your email address, phone number, or any of your social media apps.
How To Download Triller App
To use the Triller app, you need to download it from the Google play store or App store based on your mobile os.
You can also use this short video social media platform app on your Windows PC by installing BlueStacks on your systems.
Triller App Competitors
Triller's direct competition is Byte aka ClassApp, Instagram Reels, TikTok, and other short-form video platforms. The main differences between the four apps are:
Byte: 6-second clips; from the creators of the beloved Vine app
Instagram Reels: 60-second clips; built into the Instagram social network.
TikTok: 15-second clips; can link multiple clips together for up to 60 seconds.
Triller: up to 60-second clips; 16-seconds is the default
Create Triller App account using social media
Login to the Triller app and tap the Profile icon at the bottom right.
Tap Sign up
Choose your preferred way to sign up.
You can sign up with Apple, Google, Facebook, Twitter, or Snapchat.
Your chosen service will open on your device.
Tap Authorize Triller app to create your account.
Signup Triller App Using the Phone Number
Open the app and tap the Profile icon at the bottom right.
Tap Sign up
Select Phone Number
Enter your mobile number and tap Verify.
You'll receive a 4-digit confirmation code as a text message.
Enter that 4-digit number at the prompt in the Triller app.
Now enter your preferred username.
Tap Save Username to create your account.
Open Triller App Using Email Address
Launch the triller app and tap the Profile icon at the bottom right.
Tap Sign up
Select Email address.
Enter your email address, the username you would like to use,
Enter a strong password.
Then tap Create an account.
You'll receive a confirmation email to the email address that you provided.
Click that confirmation link in the email and complete the signup process.
Also, Read – 7 Best TikTok Alternative Video Apps
How To Create Triller Video
You can upload a video that you have already shot to the app or create clips using the built-in camera in the triller app. After adding all your filters and editing, you can upload the video on your timeline or you can download videos to your camera roll or share them on Facebook, Twitter, Instagram, and other social media platforms too.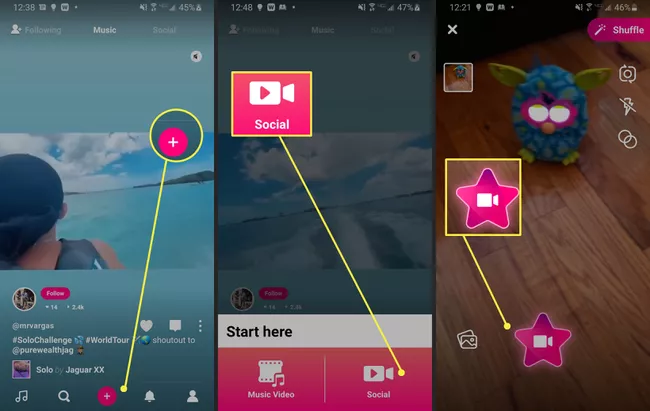 Open the Triller app.
Tap the pink plus button on the bottom of the screen.
Select Social to make a video. (If you want to make a music video, go to the section below .)
Tap the star video camera symbol to start recording.
After a few seconds of recording, a stop symbol appears, Tap it when you're done recording, and then tap Next.
You can edit the length by tapping the thumbnail and then the edit button or post it right away.
Tap the timeline to edit your clip.
If you want to make edits, tap Edit Video that includes filters, emojis, handwriting, word overlays, typing, and lightening, and darkening the footage.
Tap Done when you finish adding effects.
Tap Finish.
Tap Choose Category of your video with a description and tag a location.
Tap Post Video. You also have the option to save it. Just tap Save to Project Drafts.
Tap Set as Private Video if you don't want to share the video publicly.
How to Add a Song and Make a Music Video on Triller App
To make music videos on Triller, you can record yourself dancing or lip-syncing to your favorite song, and the app will automatically edit it for you.
Open the Triller app on your phone.
Tap the pink plus button on the bottom of the screen.
Select Music Video.
Choose a song from Triller's music library or upload your music into the app.
Now, trim the audio and choose the length of the track which you want.
Tap Record your video by pressing your camera button.
The recording will stop automatically based on your audio length or you can stop it manually.
Select the appropriate Category and post the video.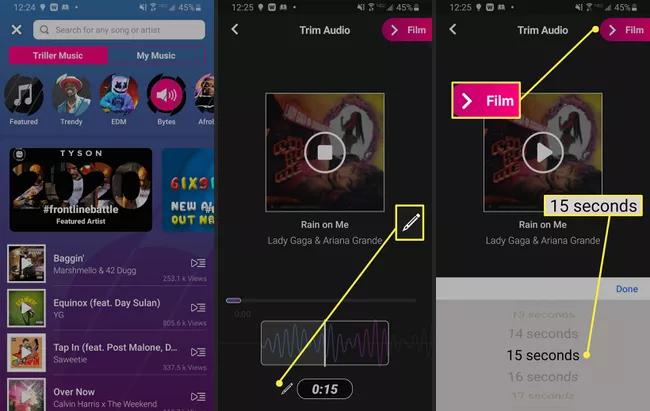 Now you can sign in Triller app and make your favorite videos with music and enjoy.
Related Articles
How To Get More Views on Instagram Stories